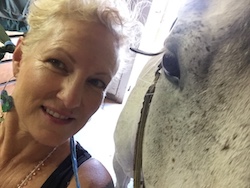 Danielle Dvorak
Certified Biofield Balance / Soul Path Intuitive Reader, Certified Vibrational Healing Sound Practitioner, E-RYT200 Yoga Teacher, Usui Reiki Master / Teacher, Certified Aromatherapist, Akashic Records Guide, Certified End of Life Mentor & Feng Shui Practitioner
Releasing our fears and outmoded life patterns – which create energetic and physical toxins – is at the foundation of Danielle's beliefs about healing. She feels that each of us is our own "Inner Healer" and honors this within the individual, while creating a safe, energy matrix in space and time for the healing process to occur. 
Danielle's path to holistic health care through energywork began in the 1970's, when she first went to a Chinese accupuncturist for treatment and experienced a miracle. In the early 1980's, she took charge of her own health when she started to regularly work with a classical homeopathic physician in addition to her allopathic practitioners. Another benchmark in her journey to becoming who she is today occurred in the mid-1990's, when she was diagnosed with high levels of mercury toxicity, resulting in Chronic Fatigue and the beginnings of Fibromyalgia. After much detoxing, learning, and hard work to create her own health, Danielle was led to serving through helping other people in their efforts to improve their health and well-being. 
During this journey she found Vibrational Sound Therapy, Yoga, Reiki, Aromatherapy, and Feng Shui to be the most effective in her own self-healing. Ultimately, these modalities have become her specialties for assisting other people with finding health and reaching their highest potential — physically, emotionally, mentally and spiritually. 
Danielle has decided, after approximately 10 years of contemplating the change, that she'd like to be known as "Rain." This name came to her all those years ago when she was working on a biodynamic farm in the Midwest. There was a drought and she spent an entire day delivering water to the crops. She moved sprinklers, drip irrigation, soaker hoses and hand watered all day. As she was getting ready to leave, the lead farmer said something to the effect of, "You were all about water today!" and Danielle replied, "Just call me Rain!." She knows that after all these years of being "Danielle" (the name her parents gave her), some will always call her that. But if you're inclined, she'd love it if you call her "Rain." 
May the blessings be